UNSW Centres Opening - New Building
On Tuesday 10 October 2006 the Cyberspace Law and Policy Centre joined in celebrations for the official opening of the Law Centres' Precinct in the new Law Faculty Building at the University of New South Wales. The Precinct is the new home for eight social justice law and research centres affiliated with the faculty, including our own.
The Precinct was opened by His Excellency Dr José Ramos-Horta, Prime Minister of East Timor. His Excellency has enjoyed a long history with the university, helping to establish the Diplomacy Training Program in 1989. Dr. Ramos-Horta expressed his support for the work done by all the UNSW law centres. He also gave the inaugural Hal Wooten lecture in the Faculty's new main theatre to a packed house.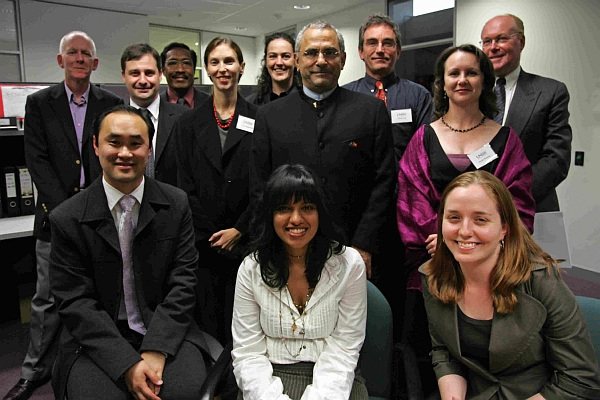 The staff of centres including the Cyberspace Law and Policy Centre and AustLII with Dr Jose Ramos-Horta
Nigel Waters, ET justice officer, Bridget McDermott, David Vaile, Prof Graham Greenleaf
Prof Andrew Mowbray, Alana Maurushat, Dr Jose Ramos-Horta, Jacqui Houston
Philip Chung, Abi Paramaguru, Catherine Bond