Monday, November 27, 2006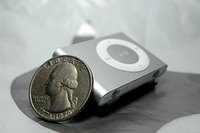 Catherine Bond, our resident iPod expert, has written an issues page,
"iPods and copyright infringement"
and opinion piece,
"iShufflin' that law through..."
for online youth organisation, '
ActNow
'. Catherine explores how some of the changes brought about by the Copyright Amendment Bill 2006 may impact on under-25-year-olds.
(Pictured: "
So Tiny
", LarimdaME, available under
Creative Commons Attribution-NonCommercial License
)
Labels: abi