Friday, December 21, 2007
In 2006, the (sadly, soon to be ex-)
Senator Andrew Bartlett
helped us identify a new species of creature, one borne out of the Copyright Act amendments, known affectionately as "the Congealed, Wobbling Blob of Copyright" (see
here
and
here
).
In 2007, it appears the Blob has moved with the times and now has its own 'BlobBook' page, and sends its silly season good wishes: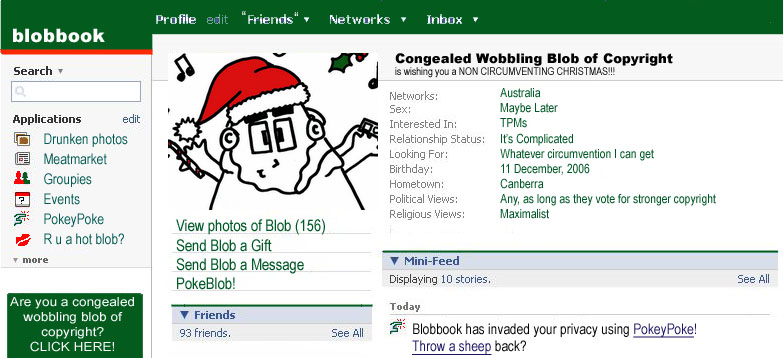 Seasons Greetings from all of us at the House of Commons!
Friday, December 07, 2007
The
Fair Use Project
at the Centre for Internet and Society (Stanford Law School) will help defend a book publisher planning on releasing a print version of the
The Harry Potter Lexicon
. Publication of the book has been blocked by JK Rowling and Warner Brothers based on claims of copyright and trademark infringement. Rowling
notes
:
"It is not reasonable, or legal, for anybody, fan or otherwise, to take an author's hard work, re-organize their characters and plots, and sell them for their own commercial gain. However much an individual claims to love somebody else's work, it does not become theirs to sell."
Rowling previously shared quite a close relationship with the Lexicon and has
publicly praised the website
. (Read more in
this post
on Ars Technica).
According to SMH
:
"Fair Use Project Executive Director Anthony Falzone said the Lexicon is protected by US rules that have long given people 'the right to create reference guides that discuss literary works, comment on them and make them more accessible.'"
Wednesday, December 05, 2007
The
Cyberspace Law and Policy Centre
will be hosting a symposium on the
proposed OO XML ISO standard and Australia
. The event is free and we hope to see you there!
Speakers:

A range of technical, legal and content experts from Australia and the region
Date: Friday 14 December 2007


Time:

8:30-1:00 (technical), 2:00-4:30 (legal) (catering provided)


Venue:

Room 101, level 1, new Law Building, UNSW lower campus


URL:

http://www.cyberlawcentre.org/2007/ooxml/
This symposium to explore issues raised by the proposed OOXML (Microsoft Office Open XML) document format standard from Microsoft, to assist consideration of the Australian response to the proposal through Standards Australia. Expert commentators from a range of perspectives will present written and oral summaries of the issues, and there will be detailed discussion of the most significant of these. There is proposed informal participation from Standards Australia, and experts associated with them. There are two sessions, Technical and Legal; there will be a preliminary 'Background Paper' on the Legal area, and a list of 'top 10 topics' for the Technical. The web page will also be updated with more detail and further resources close to the day.
Entry for this OOXML Symposium is free, but places are limited. To reserve a place, it is essential to RSVP to feedback@cyberlawcentre.org, indicating if you are coming for AM, PM or both sessions, if you need lunch, and the nature of your interest in the proposed standard.
Labels: abi, conferences, open standards