Tuesday, March 27, 2007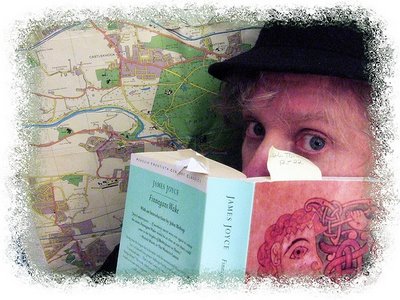 It's amazing how quickly some things can change and it's definitely a good sign when things do. In his latest, very recent 2007 article, R. Anthony Reese discusses the "new unpublished public domain" and, among other issues, discusses why, for example, some authors or their families might want to keep unpublished material private.
One of the examples that Reese gives is the estate of James Joyce, who died in 1941. Stephen Joyce, James Joyce's grandson and the controller of his literary estate, is notoriously protective of any unpublished material relating to his grandfather and family and, as this material remains under copyright law, it is easy to control publication of the material. One of the reasons Reese identified for Stephen Joyce being so protective of this material is because of its references to James Joyce's daughter Lucia, who spent some time in a mental asylum.
Between the publication of Reese's article, however, and the last few days, this situation has changed.
Back in 2003, Professor Carol Shloss was working on a biography of Lucia Joyce, titled "Lucia Joyce: Dancer in the Wake", when she was contacted by Stephen Joyce and told she was not permitted to quote from a considerable number of materials still controlled by the Joyce estate. Shloss was forced to make significant alterations to her text and delete many of her opinions conforming to the amount of quotation the Joyce estate considered 'fair use.'
In 2005 Shloss made a private supplemental website containing supporting material which she was forced to remove from the book. The Joyce estate threatened legal action against Shloss if she made the website publicly available. But would the Joyce estate succeed with said legal action?
Enter the
Stanford Centre for Internet and Society's
"Fair Use Project"
('FUP'). The FUP, which began in 2006, provides legal support on projects designed to "clarify, and extend, the boundaries of 'fair use' in order to enhance creative freedom." In June 2006 FUP filed a lawsuit on behalf of Professor Shloss, in order to establish her right to use "copyrighted materials in connection with her scholarly biography of Lucia Joyce."
Last week, the Joyce estate agreed to enter into a
settlement agreement
permitting Professor Shloss to publish quotations relating to James and Lucia Joyce electronically, and in a book. This is a particularly significant outcome given the situation identified earlier. In the words of Shloss:
"I fought not just for Lucia and Joyce, whose words had to be taken out of my book, but for the freedom to consider what happened to them and for the freedom of others to respond to my ideas. 'Fair use' exists to foster this liveliness of mind; its measure is in transformation not in a restrictive counting of words. Everyone who worked on this case understood that something far more important than my particular book was at stake in the fight. It was an honor to work with them." (source)
Sources/I Want to Learn More!
Stanford Scholar Wins Right to Publish Joyce Material in Copyright Suit Led by Stanford Law School's Fair Use Project, Digital50.com
An Important Victory For Carol Shloss, Scholarship And Fair Use, Anthony Falzone, CIS

R. Anthony Reese, "Public but Private: Copyright's New Unpublished Public Domain" Texas Law Review, Vol. 85, pp. 585 - 664 (particularly pages 618 - 619), 2007.
Matthew Rimmer, "Bloomsday: Copyright Estates and Cultural Festivals" Script-ed, Vol. 2, No. 3, pp. 383-428, September 2005
Post written by Catherine Bond and Abi Paramaguru.
(Pictured: "
365 - Day 32 - Happy Birthday James Joyce!
", daryldarko, available under
Creative Commons Attribution-NonCommercial-NoDerivs 2.0 License
)