Thursday, October 02, 2008
Being a very dedicated PhD student, I spend a lot of time in libraries, and the
State Library of New South Wales
is one of my favourite to visit. The Mitchell Collection of the State Library, housed next to
the Domain
, is in my view one of the best libraries in Australia and houses an immense collection of colonial (and yes, more recent) documents.
On a recent trip when I was undertaking research into colonial publishing practices, I was lucky enough to access a copy of
Tess of the d'Urbervilles
by
Thomas Hardy
, which was published as part of Petherick's Collection of Favourite and Approved Authors. That series, published by
E.A. Petherick & Co.
was one of the few series of books published by local publishers. The copy of
Tess
that I handled was a beautiful book, published in 1892. The State Library staff kindly informed me that there were more recent editions of Hardy that I could have a look at...and then looked slightly confused when I wanted a copy of the inside covers of the book (which contained a listing of all the books in the Petherick series...you can read exactly why I wanted to see this when I finish my thesis in about six months time).
This walk down memory lane is an avenue for announcing that the State Library of New South Wales has just released rare Australian photographs from its archive onto
Flickr
. If that copy of
Tess
was anything to go by then there are going to be more than a few cultural gems released as part of this collection. You can find the complete photostream
here
but I thought I would include one photo in this post, which would allow me to continue my time travel through Australian history: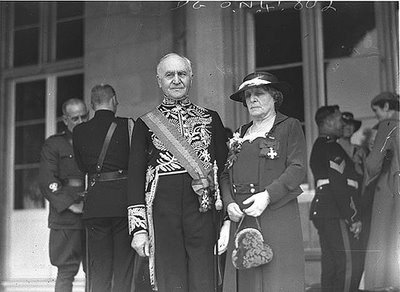 Sir Isaac Isaacs and Lady Isaacs, photographed by Sam Hood, from the collections of the Mitchell Library, State Library of New South Wales, featured on the SLNSW Flickr photostream here, persistent URL here.
For those of you who are not familiar with
Sir Isaac
, he was Australia's first native-born Governer-General and the 3rd Chief Justice of our High Court. Sir Isaac dissented in the first case on the power of the Parliament to make laws with respect to copyrights, patents of invention and designs, and trade marks (section 51(xviii)) in
Attorney General (NSW) ex rel Tooth & Co Ltd v Brewery Employees Union of NSW
.
This concludes today's lengthy lesson on Australian copyright and cultural history!
Labels: books, catherine, copyright, High Court of Australia