Friday, December 15, 2006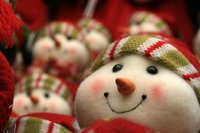 Here at the House of Commons we're slowly starting to get over the Copyright Amendment Act and look to the festive season with glee. These amendments will have an enormous impact on the copyright commons in the future, but I've compiled a list so that, this Christmas, we can start to reduce some of the damage done. Here are the first six.
On the 12th Day of Christmas:
Update a
Wikipedia
page. Know a fact that few others do? Join Wikipedia and let the whole world know.
On the 11th Day of Christmas:
License a work under a
Creative Commons
licence, or a licence of your choice. This is a gift you can give to everyone (note on behalf of everyone: a CC-licensed picture is better than socks).
On the 10th Day of Christmas:
Brew up some
free beer
(and remember to share your recipe).
On the 9th Day of Christmas:
Register for
linux.conf.au
– if you're a source-y type, you might think that all your Christmases had come at once when you get to attend this conference.
On the 8th Day of Christmas:
Make your Christmas cards out of Creative Commons-licensed images that you can find on
flickr
. Use the search engine
here
to find pics. Think about licensing any changes you make to pictures under a
Sharealike
licence, so that you not only give to your friends but give to the commons too.
On the 7th Day of Christmas:
Feeling a bit scrooge-y? Read
A Christmas Carol
by
Charles Dickens.
And since it's a public domain work, you can find it
here
at
Project Gutenberg.
That's all for now...stay tuned for the next six in the coming week!
(Pictured:
Smilin' Snowman
, ShazzMack, licensed under a
Creative Commons Attribution-Commercial-Sharealike 2.0 license
)
Labels: catherine