Thursday, December 14, 2006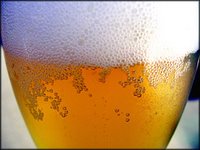 "

Free software

is a matter of liberty, not price. To understand the concept, you should think of free as in

free speech

, not as in

free beer

." (Richard Stallman, Free Software Definition)
December 15 2006 is the fourth anniversary of Creative Commons. What is the best way to celebrate? With a cool refreshing glass of
free beer
of course!
What is free beer? It is promoted as "
beer which is free in the sense of

freedom

, not in the sense of

free beer
." The project is the brain-child of a Copenhagen based artist collective called Superflex and a group of students at a Copehagen IT University. The underlying idea involves the application of free software/open source principles to a tangible item (close to the heart of many) - namely beer.
How do they go about it? The branding and recipe is released under a
Creative Commons (Attribution-Sharealike) license
. This means that anyone is free to produce and sell the beer and brew their own modified version of the beer, as long as they share the modified recipe. The recipe for Free Beer version 3.0 (codename: "Skands") is available
here
.
Lawrence Lessig rightly points out that
recipes are not copyrightable
. But I wonder- does this matter when it is the
best beer you have had all year
?
Richard Stallman seems to like the idea but unfortunately,
does not drink beer
.
Anyway, if you happen to be wondering around Blågårdsgade 5, Copenhagen on the 15th of December why not put on your
dansende schoenen
and join in the festivities for the fourth anniversary of Creative Commons. Creative Commons Denmark and the folks from Free Beer will be there. If that isn't enough enticement remember- Free Beer is
now available on tap
.
(Pictured: "
My glass of beer
", Lupinanto-Antonio Pennisi, available under a
Creative Commons Attribution-NonCommercial-NoDerivs 2.0 License
)
Labels: abi, Creative Commons, Fun